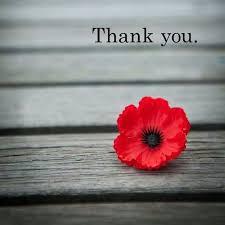 Our school will be observing Remembrance Day with a virtual program tomorrow morning (November 10th). We will have a few highlights posted on our website on November 11th.
Each student will receive a poppy tomorrow from the Canadian Legion. If you would like to donate to the Legion and support Canadian veterans, we will be accepting donations tomorrow morning: any amount is welcome.
Please note that there is no school on Wednesday, November 11thbecause of Remembrance Day.
We wish all of your homes the best of health as we take time this week to think about the freedoms we enjoy in this country with our loved ones because of those willing to sacrifice themselves for us.