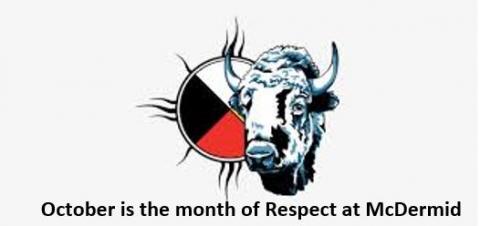 Please find this month's newsletter HERE
October is the month of Respect at McDermid.
"I Respect" is one of the shared values of Regina Public Schools. Respect is also one of the 7 Grandfather Teachings, represented by the Buffalo. Respect means thinking highly of someone else. The buffalo so valued the First Nations people that it gave every piece of itself to provide for their needs.
To learn more about Respect, we recommend watching the teaching from Elder Hazel Dixon at the Royal Saskatchewan Museum, found HERE.
Important Dates for October:
Wednesday, October 6th: School Picture Day
Monday, October 11th: No School: Thanksgiving
Friday, October 15th: No School: Teacher Convention
Wednesday, October 20th: SCC Meeting at the school at 7:00 p.m.
Thursday, October 21st: FREE Thanksgiving Lunch and Formal Dress-up Day
Friday, October 22nd: Last Day for Spirit Wear Orders
October 25th – 31st: Pumpkin Carving Competition – watch for more information to come
Friday, October 31st: Costume Dress-Up Day! (Please remember no masks, blood, or gore)