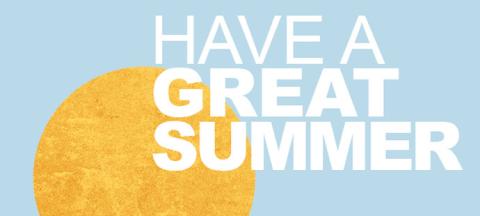 We want to sincerely thank all of you for being a part of the McDermid school community this year. We hope everyone has a very safe and enjoyable summer break.
*PlayEscapes is a FREE program for young people, and a program will be held at McDermid running from July 10th to August 11th from 12:30-4:30 p.m. Links to register online can be found here: City of Regina | Free Programs for Children & Youth or call 306-777-7529.

*The new Wascana outdoor pool offers free admission Tuesday evenings after 5:00p.m., from 9-11 am on Friday mornings. Maple Leaf and Buffalo Meadows offer free admission, and many other pools have special family rates. They can be found here: Dropin-Programs_OutdoorPools.pdf 

*The 2023/2024 school calendar and supply lists can be found online and were emailed through Edsby. Classes resume Tuesday, September 5th. Students will be met outdoors at the start of the day (bell rings at 8:50) by staff who will help them to know which classroom is theirs.

*Our office will be closed until Wednesday, August 29th. Emails and phone messages will likely not be responded to prior to that time.
We wish all the best to our McDermid families!