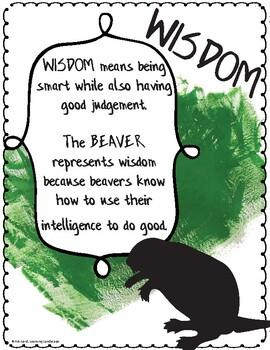 Wisdom is one of the Grandfather Teachings, represented by the BEAVER. It is not just about being smart, but having good judgment.
All of us have gifts to share with others. Wisdom is to know what your gifts are and to use them to contribute to the development of a peaceful and healthy community. A beaver uses his natural gift wisely for his survival. A beaver's sharp teeth are helpful for cutting trees and branches to build his dam. If he doesn't do this, his teeth will grow too long and be useless. In the same way, our spirits will grow weak if we do not use our gifts well.
To cherish knowledge is to know wisdom.
One of our favorite links for learning about the Grandfather Teachings is from the Royal Saskatchewan Museum, which you can find here: https://royalsaskmuseum.ca/rsm/education/school-programs-online/sacred-teachings