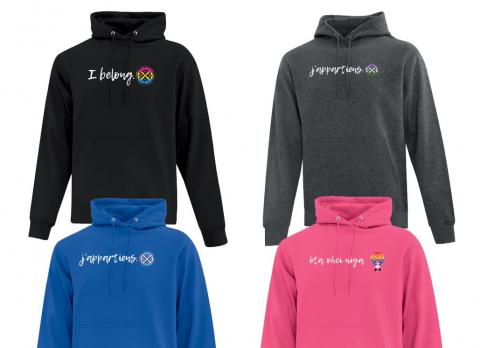 In Regina Public Schools, we demonstrate our Shared Values that include belonging and respect. As a school division, we are committed to ensuring schools and workplaces are inclusive and welcoming environments where Gender and Sexually Diverse (GSD) staff, students, families, and allies feel included, protected and respected. Please join us this June as we celebrate Pride Month and demonstrate that ALL, however they are and want to be, are welcome in Regina Public Schools!
We will hold a system-wide Pride Day on Friday, June 10th.
We are also excited to have partnered with Freshly Pressed Printing to offer Pride clothing with "I Belong" on the front. You can choose your language (English, French or Cree), your colour and style (T-shirt, long-sleeved shirt or hoodie), as well as the specific Shared Values logo you want that represents a variety of identities and orientations. Shirts can be ordered by any staff, students and families connected to Regina Public Schools. 
To access the website, please click on the link HERE.
PLEASE TRY TO HAVE ORDERS IN BY MAY 13TH.